Eating Healthier Just Got Easier!
Say goodbye to the "Same Old, Same Old" boring recipes night after night!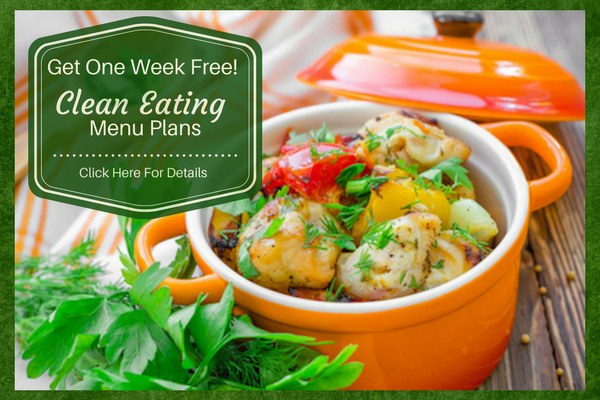 Our all-new Clean Eating menu plans make it easy! No more spending hours searching the Internet or going through magazines and cookbooks to find dependable, healthy, and delicious recipes to feed your family.
We know you've got a lot on your plate, so our mission is to take the stress out of what you put on the table… and our professionally developed menu plans are designed to do just that!
Here's What You Can Expect… 
All recipes in our new Clean Eating plans are gluten-free. They also feature:

Lots of fresh, in-season fruits, vegetables, and culinary herbs whenever possible
Lean sources of animal and plant protein
Whole (gluten-free) grains
Useful tips on what to look for and where to find clean-eating ingredients, along with how your family can eat healthier on a budget
Professional cooking tips to make your time in the kitchen more fun and rewarding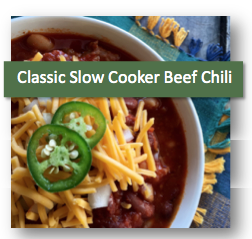 In addition, our recipes strictly follow these guidelines:
NO refined or processed sugar (natural sweeteners, such as honey and real maple syrup, are used in moderation)
NO artificial preservatives
NO artificial ingredients
NO artificial colors
NO refined ingredients (e.g., white flour)
We've put a lot of time and effort into creating our Clean Eating menu plans and we can't wait for you to try them! To help you decide if our plans are right for you – we'd like to offer you a little "taste test." 🙂
Our Free Gift To You: One Week Free!
Your Free Clean Eating Weekly Menu Plan Includes: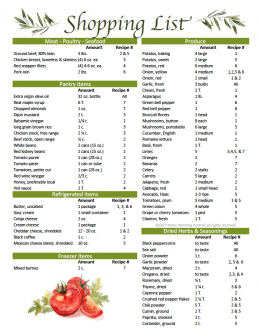 6 delicious dinner recipes
6 side dish recipes (carefully chosen to complement our dinner recipes)
1 bonus side dish recipe
1 dessert recipe
Convenient, printable shopping list
Here's the list of recipes included in your Clean Eating Bonus Week:
Double-Stuffed Baked Potatoes
Garden Salad with Homemade Balsamic Dressing
Classic Slow Cooker Beef Chili
Red Cabbage & Carrot Salad
Oven-Roasted Chicken Breast with Herbs
Brown Rice Pilaf
Broiled Red Snapper with Garlic Hot Sauce
Broiled Asparagus with Cotija Cheese
Taco-Stuffed Portobello Mushrooms
Homemade Taco Seasoning Mix – bonus recipe
Chunky Homemade Guacamole
Baked Sweet Potato Chips – bonus recipe
Oven-Roasted Pork Loin
Potatoes O'Brien
Banana-Berry Sorbet
If you're ready to start living a healthier lifestyle, download your free, no-risk menu plan today to see just how easy clean eating can be!
Ready to Get Cooking?
Register Now to Download Your FREE Menu Plan!
You do NOT need to provide any payment details to claim this free, no-obligation gift!