Healthy Eating Made Easy!
Our all-new Clean Eating menu plans make eating healthier so easy! No more spending hours searching the Internet or going through magazines and cookbooks to find dependable, healthy, and delicious recipes to feed your family. Our professionally developed menu plans do all the planning for you.
Recipes in Our Clean Eating Menu Plans:
Feature fresh, in-season fruits, vegetables, and culinary herbs whenever possible
Utilize lean sources of animal and plant protein
Are gluten free
Incorporate only whole (gluten-free) grains
Provide useful tips on what to look for and where to find clean-eating ingredients, along with how your family can eat healthier on a budget
Share professional cooking tips to make your time in the kitchen more fun and rewarding!
In addition, our recipes follow these guidelines:
NO refined or processed sugar (natural sweeteners, such as honey and real maple syrup, are used in moderation)
NO artificial preservatives
NO artificial ingredients
NO artificial colors
NO refined ingredients (e.g., white flour)
Say goodbye to the "Same Old, Same Old" boring recipes night after night!


.
Each Weekly Clean Eating Menu Plan

Includes:
Convenient, printable shopping lists take the guesswork out of grocery shopping!
6 delicious dinner recipes
6 side dish recipes (carefully chosen to complement our dinner recipes)
1 dessert recipe
Convenient, printable shopping list
Sample Clean Eating Weekly Menu Plan and Shopping List: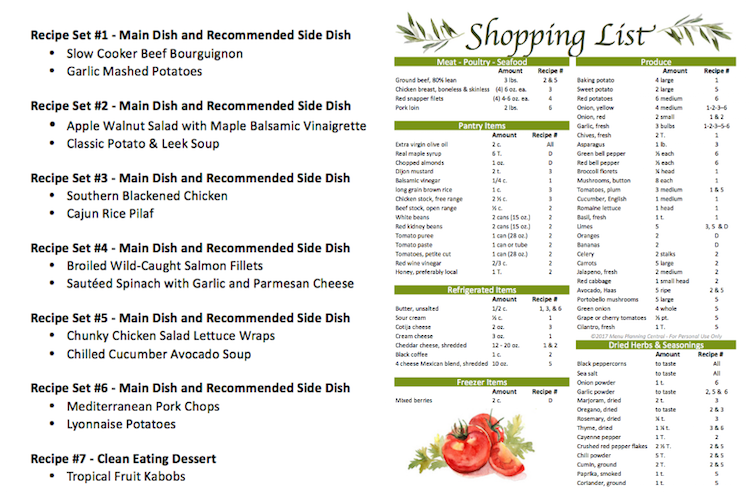 Your Clean Eating Menu Plans Include:




.
4 Weekly Menu Plans – includes 52 Clean Eating Recipes: 24 Main Dishes, 24 Side Dishes, and 4 Desserts!
4 Customized Printable Weekly Shopping Lists
"Clean Eating" Breakfast, Lunch, & Snack Ideas Bonus Guides
Start Eating Healthier Today for Just $9!
We Accept PayPal and Stripe for Secure Credit Card Payments