Affiliate links are used in this post.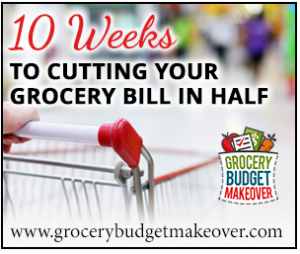 Groceries are expensive–we all feel the pinch! But did you know that with a few new skills you can dramatically reduce the amount of money you're spending at the grocery store, without having to eat less?
Erin Chase has used her expertise in strategic shopping, meal planning, and couponing to create this one-of-a-kind Grocery Budget Makeover course for you!
Throughout this 10-week course, Erin will take you step-by-step through the various parts and pieces of having a sane, balanced approach to buying your groceries while spending less. (and not turning into one of those people that has 600 bottles of mustard in their garage…..)
She'll have you up and running with saving money, and then you can put your $$$ toward other stuff that's more fun, like a vacation, remodeling the kitchen, or save it toward Christmas!
Click on over to watch a video and learn more about this awesome course!  Registration opens just a few times a year.  Click here to sign up for a reminder email when it's available again!