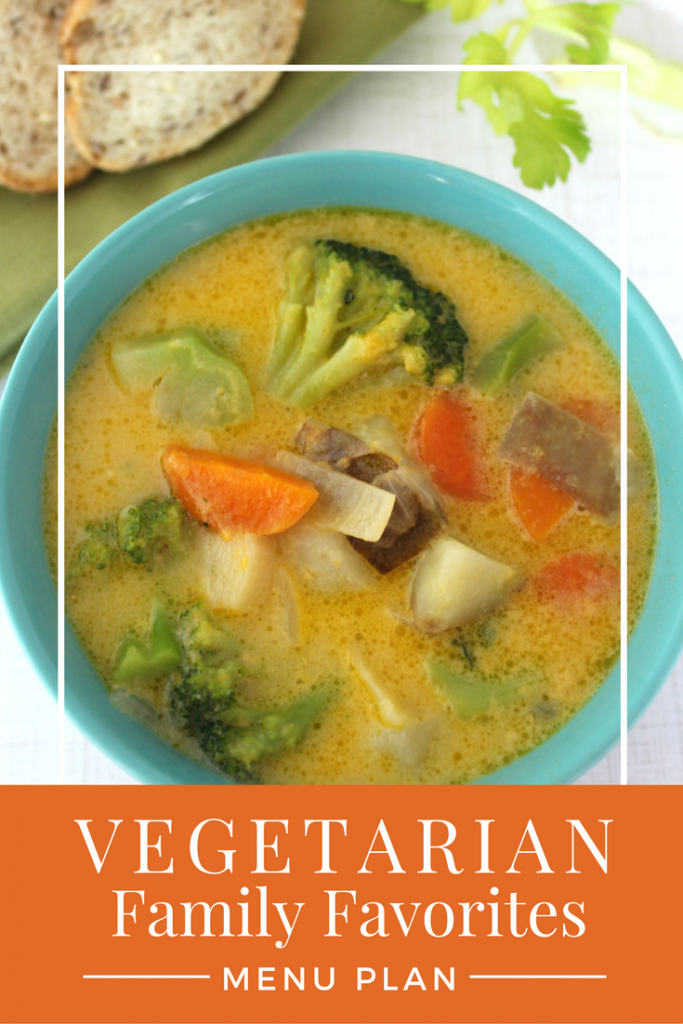 You want to provide delicious homemade meals for your family that support your vegetarian lifestyle, but getting from wishes to dishes can be tough amidst the busyness of life! Our done-for-you menu plans and organized shopping lists make "What's for dinner?" a snap!
Each month you'll receive 4 weeks of complete vegetarian dinner recipes that are sure to please your entire family. You'll be enjoying a nice variety of homemade meals that are easy to make, and include lots of seasonal produce.
You'll also say goodbye to the dreaded grocery shopping trips and the time-consuming list-making that goes with it, because our organized lists are ready for you to simply print and go, knowing you'll have all the ingredients you need for all of your meals that week!
Our Vegetarian Family Favorites Menu Plan includes:
6 complete vegetarian dinner recipes per week

1 brunch recipe each week, for you to enjoy on the weekend

1 dessert or homemade treat recipe each week

typically there is at least one slow cooker meal each week, to help you out on your busiest days

our recipes have very few (if any) processed food ingredients, low sugar, NO artificial sweeteners, and NO MSG

all set to serve at least 4 (but you can easily double it if you have a larger family or like to have leftovers)
Want to see what this menu plan is like?  Click here for a sample.
Get all 12 months of this menu plan for less than a dollar per week!  One-time payment of $45.00 for 12 months.

Or choose to pay quarterly.

Each month's menus will be delivered to your membership area around the first of the month, where you can download and print your PDF menu plans at your convenience.
30-day Happiness Guarantee:  I think you're going to love your Menu Planning Central membership.  You probably think so, too.  But how will we know until you give it a try?
Go ahead, get started with your membership today.  Print out your menus and shopping lists and use them for 30 days.  See what you think.
Don't love it?  Nice, but not for you?  Ok.  No problem.  Contact us within 30 days and we'll refund your purchase price.  Easy-peasy.
Other Products You May Be Interested In