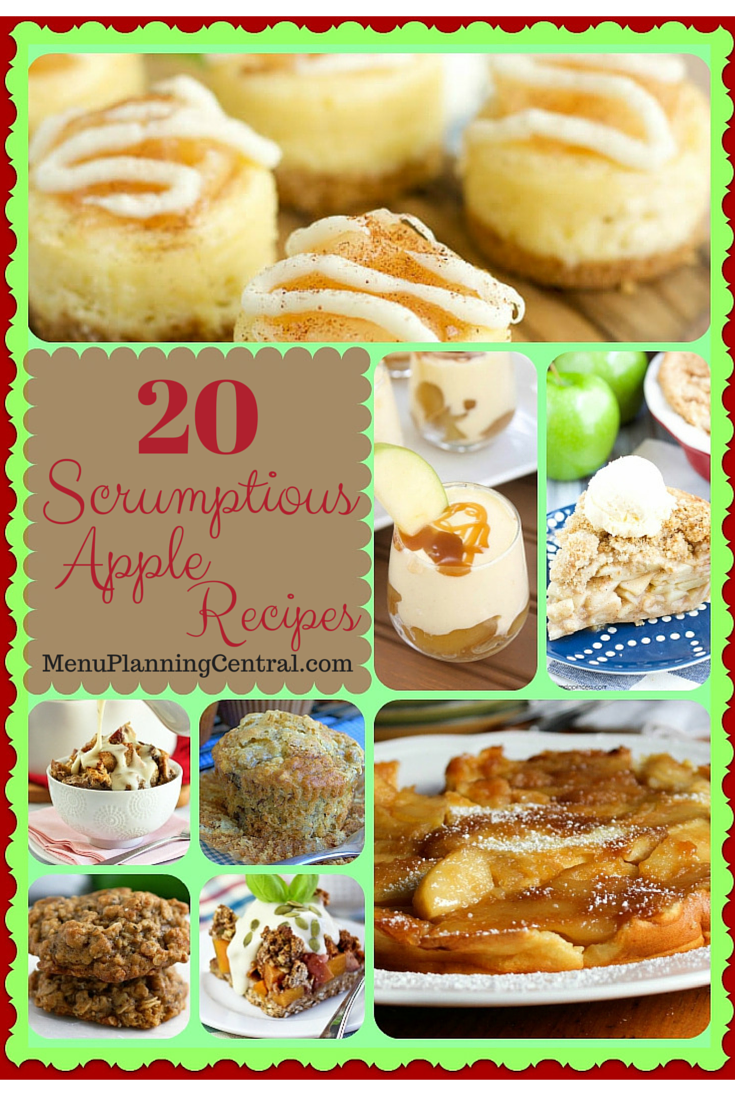 I love fall, and I love all the apple and pumpkin recipes that are so popular at this time of year!
Today I've got a great round-up for you of 20 yummy apple recipes! Check these out:
1. Healthy Spicy Pumpkin and Apple Crumble Squares:  Lots of yummy whole foods, and of course a perfect pairing of pumpkin AND apple.  Why choose just one?  🙂
2. Dutch Apple Pie:  This recipe features Macintosh apples, which in my estimation are the greatest apples on earth.  So use macs if you can find 'em, ok?
3. Ambrosia Apple Crumble Tart:  This one is especially interesting because it features a relatively new variety of apple:  Ambrosia.  I enjoyed learning more about it, and this tart looks amazing.  The recipe is designed to be vegan-friendly, but can certainly be adapted to those that want to use regular butter.
4. Apple Autumn Cake:  Apples, raisins, walnuts…what's not to love?  This looks like it would be perfect to go with coffee or tea.
5. Apple Butter Sparklers:  Apple butter + champagne!  Wow!
6. Apple Banana Oat Muffins:  Looks so yummy for the lunch box and snacks.
7. German Apple Pancake:  Dazzle your family with this for breakfast!
8. Easy Apple Crisp:  Perfect with a scoop of vanilla bean ice cream!
9. Starbucks Copycat Caramel Apple Cider:  All of you Starbucks fans will love this!
10. Mini White Chocolate Apple Cheesecakes:  Perfect for when you're looking for something a little more upscale.  
11. Apple Cream Cheese Danish:  One look at these and you'll be racing out to the store for puff pastry sheets!  Yum!
12. Butterfinger Apple Nachos:  These look sinfully delish!  Wow!
13. Oatmeal Applesauce Cookies:  Healthy enough for breakfast, delicious enough for anytime.
14. Super Simple Apple Pockets Dessert :  Very cute fall snack idea.
15. Caramel Apple Cheesecake Pudding Shots:  Looking for an adult beverage-themed treat?  This will be perfect for your fall parties.
16. Baked Honey Crisp Apple Chips:  Wholesome goodness!
17. Apple-Pecan Bourbon-Caramel Pie:  –Drool– Go. See.
18. Apple Pie German Pancake:  Beautiful, wholesome, wow!
19. Apple Cider Spice Doughnuts:  Your kids will be so excited that you made these at home!
20. Apple Cinnamon Bread Pudding:  Decadent!