Since purchasing Menu Planning Central, I have received many questions about the status of the original Lifetime memberships sold by the prior owners. To help clear up any confusion, I've created this page to explain what former Lifetime Members can expect going forward.
These plans were included in the Lifetime Membership: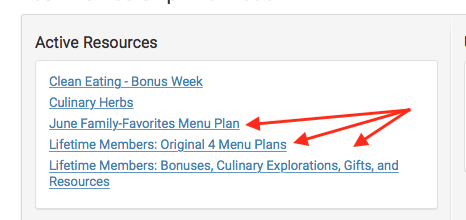 Unlimited access to the original four menu plans:

Family Friendly (12 months)
Healthy (12 months)
Frugal (12 months)
Vegetarian (12 months)
These plans are already in your member area. (You can login here to check). If you do not see them, please submit a ticket at the help desk and we'll get you squared away.
In addition, Lifetime Members will receive unlimited access to these new plans:
New Family Friendly Plans – most recent month is now available in your member area
The original owners of Menu Planning Central offered and sold products that were NOT included in the Lifetime membership. This is still the case. This is not a new development, nor is it one I initiated. However, it is one I need to follow in order to keep the site up and running. I appreciate your understanding. 
Going forward, new menu plans outside of those mentioned above will NOT be included in the former Lifetime plan. That said, please know that I am committed to provided ongoing bonuses and perks to the former Lifetime members going forward.
Here's how:
Free bonuses. (For starters, you can claim a free copy of my illustrated Culinary Herb Gardening Guide by using coupon code Herbs4Life at checkout)*
30% off all new products added to the site. Simply use coupon code LIFETIME at checkout to get your discount.
*Both coupon codes will only work for the former Lifetime Members
I hope this helps. I'll keep you posted as new bonuses and new menu plans are added. Thank you for your patience and support! ~ Trish