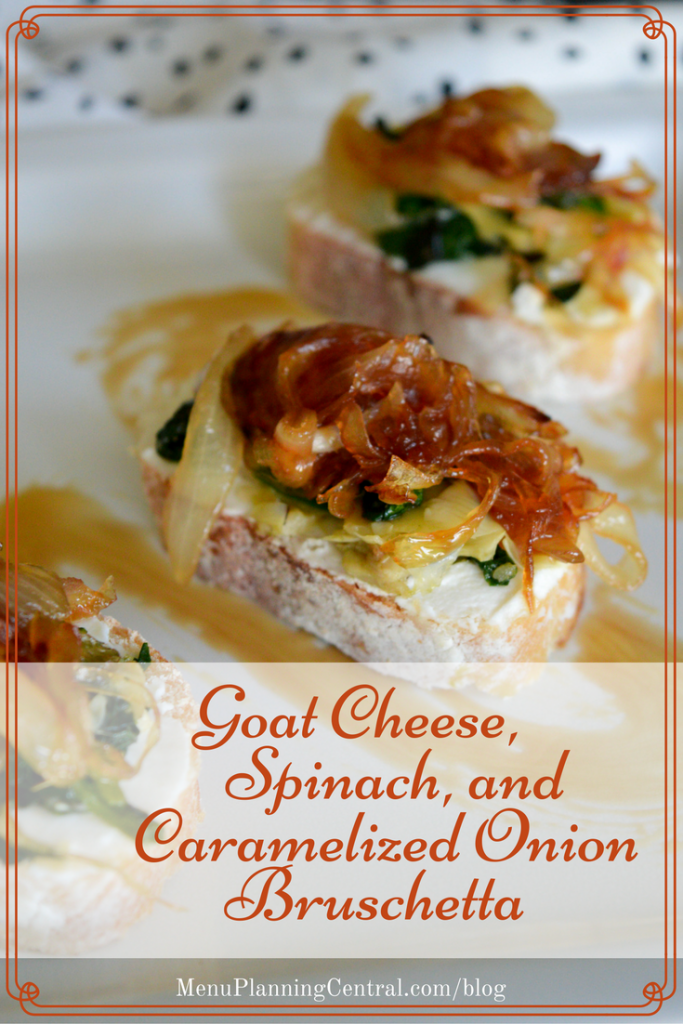 Ingredients:
One loaf of baguette bread, sliced into ½ inches
5oz of honey goat cheese, softened
5 whole onions, sliced and caramelized (follow these instructions)
1 ¼ cup of spinach, chopped
10-12oz jar of artichokes, drained and chopped
½ teaspoon of Herbs de Provence
Pinch of salt (or as desired)
2 tablespoons of olive oil
Directions:
 In a medium pan heat olive oil over medium high heat. Add in spinach and artichokes, stir for a few minutes until spinach begins to wilt. Lower heat if necessary.

Add in salt and herbs de Provence, stir for 30 more seconds. Remove from heat, allow to cool slightly.

In this order, over the sliced baguette, you will add one teaspoon of cheese and spread it. Over the cheese you will add one teaspoon of spinach and artichoke mixture, gently distribute to cover the cheese and make it even. Finally, you will add one teaspoon of caramelized onion over the spinach mixture.




Serve.
Makes 20-24