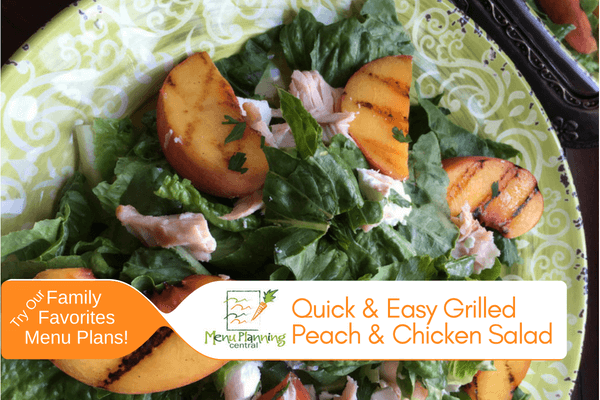 This grilled peach salad featuring a classic homemade Champagne vinaigrette could be one of my all-time favorites.  It is bursting with flavor and is so easy to make.  It's light and healthy ~ everyone at our house loves it!
When I need something quick and delicious, this beautiful healthy salad comes to mind. Utilizing rotisserie chicken from the deli makes this salad so simple to prepare any night of the week. Grilling the peaches highlights their natural sweetness and really complements the nutty crunch of the pecans and the rich creamy flavor of the goat cheese.  A light and wonderful classic champagne vinaigrette balances out the flavors with just a hint of zesty  sweetness.  Once you see how easy it is to make your own vinaigrette, you will never want to use store-bought again.
This is one recipe you will want to make over and over again!
Prep Time: 15 minutes
Cook Time: 6 minutes
Serves: 4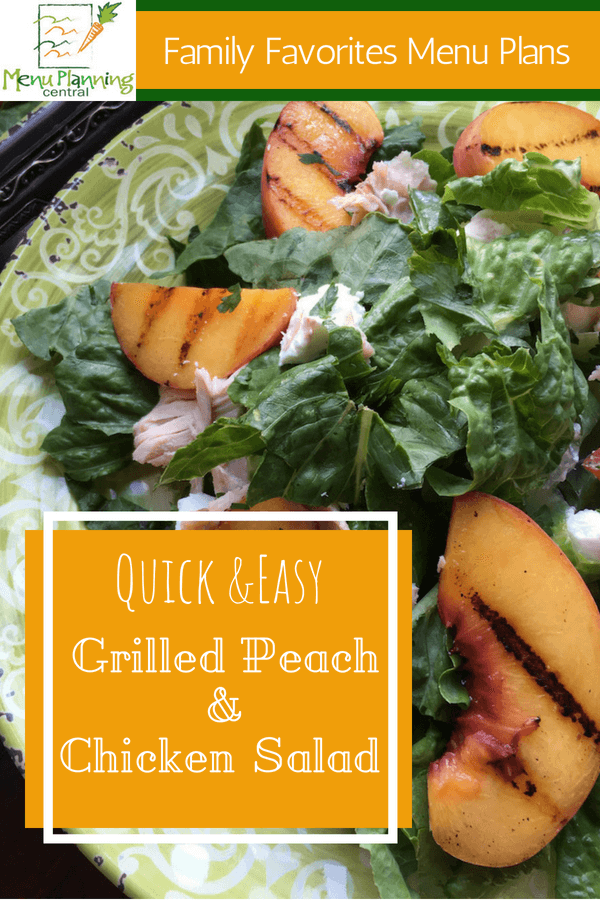 Classic Champagne Vinaigrette:
3 T. champagne vinegar
1 T. freshly squeezed lemon juice
½ cup extra virgin olive oil
2 t. shallot, very finely minced
1 T. Dijon mustard
1 T. honey
Sea salt and black pepper, to taste
Salad Ingredients:
2 heads Romaine lettuce, base removed, washed and patted dry
3 medium ripe peaches, pits removed and cut into wedges
16 oz. rotisserie chicken, preferably breast meat
4 oz. pecans, chopped
4 oz. goat cheese
Directions:
Place the first 6 ingredients in a non-reactive glass bowl or mason jar and whisk or shake to combine thoroughly.  Add salt and black pepper, to taste, and set aside.  After it sits for a few minutes, taste again and adjust seasonings, if necessary.
Clean grill grates on a gas grill with a wire brush and then spray with a non-stick cooking spray. Set heat to medium and close lid until it comes to temperature.
Add peach wedges and grill over medium direct heat for approximately 3 minutes per side, flipping wedges once while grilling. Remove from heat and set aside.
Tear Romaine leaves into bite-sized chunks and place on 4 chilled serving plates. Divide grilled peaches, chicken, pecans, and goat cheese evenly among the plates. Drizzle each plate with champagne vinaigrette and serve. Enjoy!!
Want more healthy homemade recipes like this one?
Check out our fabulous Family Favorites Menu Plans!
Save $15 on our convenient annual plan with Coupon Code Save15!