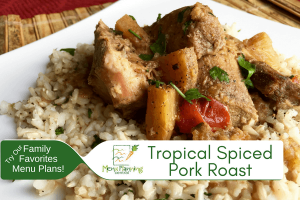 Tropical spiced pineapple pork butt made slow and easy in your slow cooker.  It's a little sweet, a little savory, and a little spicy too.   
We've taken fresh pineapple and spicy jalapeno and paired them with toasted sesame oil, creamy peanut butter, five-spice powder, and fresh cilantro for power-packed burst of flavor that is going to make you say WOW! 
This delicious dish comes together very quickly following the instructions below, but if you are really short on time there are a couple of extra steps you can skip.   To make this a truly one-pot meal, simply place the well-trimmed and seasoned pork butt roast directly into your slow cooker without searing.  In addition, the juices can be thickened right in the slow cooker crock by stirring in the arrowroot slurry with the other ingredients 30 minutes before it is done cooking.
Important Tip: Taking the time to trim as much fat as possible from the pork butt roast before cooking significantly reduces  the amount of fat that in the very flavorful juices/sauce this dish creates while cooking.
Prep time: 15 minutes
Cook time: 3-8 hours
Serves: 4-6
Ingredients:
1 small yellow onion, diced
16-oz. fresh pineapple, cut into 1" chunks
¼ c. gluten-free soy sauce*
2 t. rice wine vinegar
1 T. honey
1 T. sesame oil
2-3 cloves fresh garlic, minced
2 t. five-spice powder
1 medium red bell pepper, cut into 1" chunks
1 medium jalapeno pepper, finely diced
2 T. natural, creamy peanut butter
2 T. extra virgin olive oil
1 4-5 lb. pork shoulder butt roast, trimmed
Salt and black pepper, to taste
¼ c. fresh pineapple juice
3 T. fresh cilantro, chopped
Optional: 2 T. arrowroot
Directions:
Add onion, fresh pineapple chunks, soy sauce (*can substitute coconut aminos), rice wine vinegar, honey, sesame oil, garlic, five-spice powder, bell pepper, jalapeno pepper, and peanut butter to a 5 or 6-quart slow cooker crock. Stir to combine thoroughly.
Heat olive oil in a large skillet over medium-high heat. Season trimmed pork roast on all sides with salt and pepper, to taste. Add to hot skillet and sear on all sides, approximately 2-3 minutes per side. Transfer seared pork to slow cooker crock.
Reduce heat to medium and deglaze skillet with fresh pineapple juice. Use a spatula to scrape up flavorful brown bits from bottom of pan. Remove from heat and pour pan juices into the slow cooker.
Cover and cook over high heat for 3-4 hours or low for 6-8. When finished, stir in fresh cilantro and transfer pork and pineapple mixture to a serving platter with a slotted spoon. Cover and keep warm.
Optional: If desired, create a slurry by combining 2 tablespoons arrowroot and ¼ cup of juices from the slow cooker. Transfer remaining juices from the slow cooker to a large skillet over medium-high heat and whisk in the arrowroot slurry until well combined. Cook for several minutes or until sauce is reduced and thickened.
To serve, spoon warm pork and pineapple mixture over a bed of cooked brown or our delicious cilantro-lime rice. Top with the juices or thickened sauce, if desired, and enjoy!
If you enjoyed this delicious slow cooker Tropical Spiced Pineapple Pork recipe , you will really love our Family Friendly Menu Plans!  Save $15 on our super convenient annual plan with coupon code Save15!
Are you a member of our "Refer A Friend" program? If not, click this link for details! ?