Affiliate links are used in this post.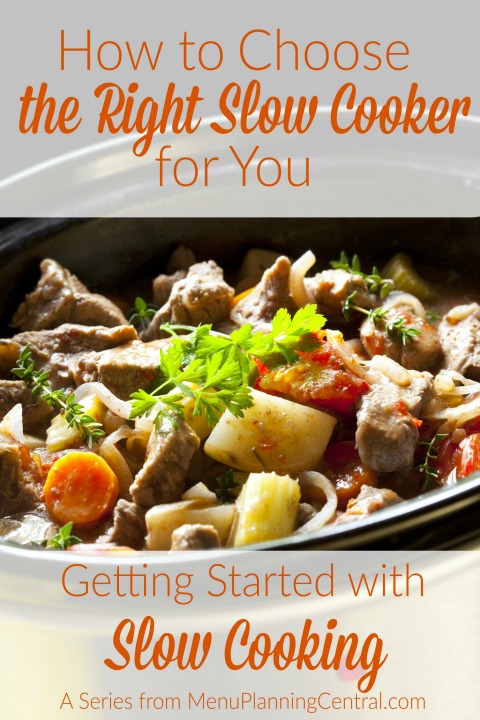 Are you ready to give cooking in a slow cooker a try? It's a wonderful way to prepare your family's meals without having to spend hours in the kitchen stirring. Make a pot of beef stew that tastes like you've slaved for hours over the stove, when all it really took was dumping a few ingredients in your slow cooker and turning it on. And since you're only using one pot, clean-up is a breeze as well.
Start with any slow cooker you currently have and make it work. See if you like the dishes it creates and if slow cooking works well for you and your family. If it does and you're ready to shop for a new model, use the tips below to guide you in your purchasing decision.
Slow Cooker Sizes
How many people are you feeding? If you are planning on making mostly main meals, soups and stews for 4-6 people, a six quart model will be your best bet. If you're doing a lot of cooking for crowds (church potluck anyone?), you may want to go with a bigger model. And if you're cooking for two, or only plan to make side dishes and desserts in the slow cooker, a four quart one will suffice. If you're not sure what to get, stick with the standard six quart version.  
This is very similar to my main slow cooker that I use multiple times a week to feed 6-10+ people. It cooks evenly, doesn't burn anything, and is reliable.  Mine is a 6 quart size and is big enough for everything I do.  I also have a 4 quart slow cooker that I sometimes use for side dishes, potatoes, or desserts.
Popular Brands
There are quite a few different brands out there that make quality slow cookers. Favorites include Crock-Pot (of course…), Hamilton Beach, Cuisinart, and Kitchen-Aid. Sticking with a popular brand not only guarantees you'll get a quality product, it also makes it easier to find parts down the road, should for example the lid fall and break.  Checking the reviews on Amazon is a huge help as well, because you get the benefit of other people's experience.  Even if you're buying off the shelf at your local store, hop onto Amazon on your phone and check the reviews for the item you're considering.  Knowing what works for others has helped me make buying decisions that I'm happy with!
Used or New?
One question we haven't addressed yet is if you need to buy a new slow cooker at all. As mentioned earlier, start with what you got. After that, it's perfectly fine to look for a used model. You can find them very inexpensively at your local thrift store or yard sales. Heck, you may even have a friend or family member who will give you theirs. So many people have a slow cooker sitting in the back of their kitchen cabinet and never use it. Ask around, you may get lucky. And if you do, don't be surprised if they ask for it back once they see, smell and taste some of the amazing meals you're making in it.
What Bells And Whistles Do You Really Need?
There are some fancy slow cooker models on the market today. And there are some very affordable basic models that function with no more than a high or low cooking feature and they may do everything you need your slow cooker to do.
Think about what functions you really need. Retractable cords are nice, but it's also not that hard to tuck the cord under the slow cooker when you store it. Having a "keep warm" feature is helpful. Do you need a programmable timer so the chili can start cooking itself even if you're out running errands or just getting back to the office after a quick lunch? Take a look at what's on the market and decide what you can and can't live without. If this is your first slow cooker, start with a very basic model. You can always add another one with more features down the road.
(I used to have a slow cooker that had digital programming, which I thought would be nice for times when I wanted to switch to low or warm before I would be home, but the down side was that if there was a power outage, or if a child accidentally unplugged the crock pot for a minute, when replugged or when the power came back on, the crock pot didn't! Instead it would sit there waiting to be re-programmed. Not cool!  I'm home most of the time, so the manual slow cooker works great for me.)
Having more than one slow cooker is definitely not out of the question if you enjoy this way of cooking. You can fix pulled pork in one, and still have room for Mac and cheese or a squash casserole to cook away in the second one as a side dish. And smaller models come in handy for hot dips, appetizers and desserts. Multiple slow cookers really come in handy around the holidays when you're fixing a variety of different casseroles and the likes. If you can prepare a few of them in your slow cookers, you don't have to worry about using up precious oven time. And it's one more thing you can set and forget.
Head on over to Amazon or take a walk through the small appliance section of your local super store and see what your options and price ranges are. Take a look at the reviews on Amazon and see what folks like and what they don't like. Then make an informed decision and get your first slow cooker. When you get it to the house is when the real fun starts… cooking with it.
Make it Smart and Easy!
Once you're ready to start using your slow cooker more, I would encourage you to check out the awesome frezer-to-slow-cooker plans at Freezeasy!  The creator, Erin Chase, has thought of everything to make batch cooking, freezer cooking, and slow cooking super easy for you.  In fact, when you follow her easy instructions (she even has a video and goes through the whole process with you!) you can make a whole bunch of meals in under an hour!