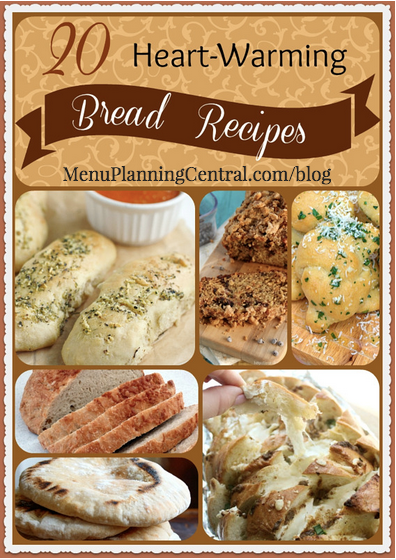 With soup and stew season upon us, it's only fitting that our thoughts turn to bread.  Who doesn't love a warm slice slathered with butter, jam, or honey?
From quick breads, convenience products, and totally homemade delights, this round-up features some of the most glorious bread recipes we've seen!
1. Zucchini Bread:  Whether you have fresh zucchini or some shredded zuke in your freezer, everybody loves this delicious bread!
2. Easy Sourdough Biscuits Recipe:  You can make these in an iron skillet!
3. Garlic Parmesan Breadsticks:  Jazz up some pre-made Pillsbury breadsticks in a jiffy!
4. Vegan Garlic Herb Breadsticks with Marinara Sauce:  Features spelt flour.
5. Chocolate Chip Banana Bread With Streusel Topping:  A gorgeous twist on traditional banana bread!
6. Baltimore Cheese Crab Pull Apart Bread:  Looks perfect for a big game gathering.  Yum!
7. Banana Snacking Cake:  The secret ingredient is flavored yogurt!
8. Perfect Homemade Pita Bread:  Have you ever made homemade pita bread?  Now's the time!
9. Blueberry Lemon Bread:  This gorgeous bread is perfect for taking to a neighbor, friend, or serving at tea.  So, so pretty!
10. Bacon Cheddar Beer Bread:  Bacon + cheese!  What's not to love?
11. Flourless Pumpkin Blender Muffins:  No flour, pretty healthy, and a secret ingredient that you wouldn't expect!
12. Slow Cooker Rosemary Bread:  Make this in your slow cooker!  Yum!
13. Banana Nut Bread: Got mooshy bananas?  Use 'em in this!  Perfect.
14. Vegan Cornbread: Vegans rejoice!  Cornbread can be yours!
15. Cheesy Olive Toasts:  Looks. So. Good!
16. Siracha Garlic Bread:  Got Siracha fever at your house?  Check this out!
17. Pizzeria Style Garlic Knots:  The only problem is will we eat too many?  –yum!–
18. Focaccia With Pistachios:  Set this up tonite, enjoy tomorrow.  So hearty and flavorful!
19. Herb and Garlic Pull-Apart Bread:  Oh my gosh you guys….this looks so. good!
20. Asiago Crusty Bread:  This sounds heavenly, and I'm really digging the long-time rising method.  You could set this up in the morning and have it fresh for dinner, or set it up before bed and wake up and bake this first thing!
Can we help you out with dinner plans?  Get a month's-worth of done-for-you menus and shopping lists from us.  Free!