Affiliate links are used in this post.
Grilling season is upon us, so today I thought I would share a product review of a handy grill that doesn't take up much space, and you don't even need to leave home to purchase!


The Char Broil Patio Bistro Infrared Gas Grill adds a little bit of technology to the standard gas grill. As you'll see, this grill could be just the answer for some of the dilemmas that grillers sometimes face.
If you only have a small space in which to grill, this grill, or it's even-more-compact sibling, could be what just you're looking for. It has a small, compact design that allows you to stow it in small spaces and is perfect for folks that have a really small patio space or just don't want to take up a ton of room with a larger grill.
If you live in an apartment, you might particularly enjoy the size of this grill. And even though it's small in design, it functions like a standard size grill. You'll have plenty of room to cook your favorite foods.  In fact, you can cook a meal for four with this grill.
The infrared feature is really interesting.  It's referring to the actual grill surface.  There are very small openings in the stainless steel cooking surface that prevent the flames from actually touching the food. The cooking surface heats quickly and evenly, without the flames actually touching your food, so there are no hot/cold spots.  The radiant heat helps lock in moisture, keeping your food delicious and flavorful without drying it out.  Despite the flames not touching the food directly, you'll still get that smoky grilled flavored that you know and love.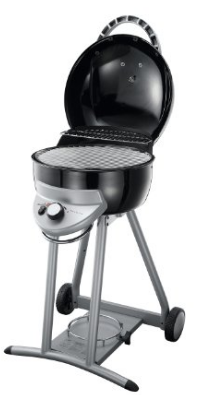 This grill features two stainless steel cooking surfaces, so you've got space to move your more quick-cooking or delicate foods farther away from the heat.  The surfaces are easy to clean, too!  Give 'em a good coating of non-stick spray before you start cooking your meal and it'll make it even simpler for you.
The parts are all high-quality and designed to make it through more than one grilling season. The grill does have an ignition that's electronic making lighting an easy process. You'll be able to light the grill quickly and be on your way to a delicious meal.
When you combine modern technology with a sleek, compact design you have a great grill for small spaces. You'll enjoy the fast heating, even cooking, and simple cleanup of this grill.
You will need to assemble this grill, but that's a one-time job.  After that you're good to go for years of enjoyable cookouts.  
If you're in need of a tabletop or portable camping version of this grill, they've got that too!  Same great technology and design, just easy to tote and store in a 30 gallon Rubbermaid container, and cook right on top of your picnic table.  
They also offer electric versions of this grill and the full-sized grill as well.  If you need a compact, high quality grill, the Char-Broil TRU-Infrared Patio Bistro Gas Grill is a great choice for you.