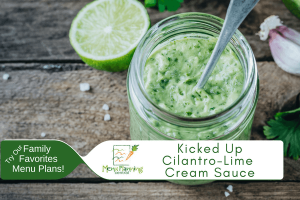 This kicked up cilantro-lime cream sauce makes EVERYTHING taste great!  It gets a boost of flavor from our homemade fajita seasoning and is perfect on salmon, chicken, veggies or this amazing South of the Border Slow Cooker Chicken Recipe and cilantro-lime rice from our fantastic  Family Favorites Menu Plans. It boasts a wonderful combination of cool and spicy you are going to love.
To achieve the best flavor, you'll want to make the cilantro lime sauce the night before you need it to give the flavors a chance to blend.  Planning ahead also saves time on those busy nights you need to get dinner on the table as quickly as possible.
Prep time: 10 minutes
Cooking time: n/a
Serves: 4
Tip: Prepare the fajita seasoning in larger batches and store in mason jars to use later.
Ingredients:
Cilantro-Lime Sauce:
1 c. plain, full-fat Greek yogurt
1-2 T. homemade fajita seasoning
1 clove garlic, peeled and finely minced
2 T. fresh cilantro, finely chopped
2 T. fresh lime juice
Salt and black pepper, to taste
Homemade Fajita Seasoning:
3 T. chili powder
1½ T. smoked paprika
2 t. onion powder
2 t. garlic powder
2 t. ground cumin
½ t. cayenne pepper
1 t. dried oregano
2 t. sea salt
Directions:
Prepare the fajita seasoning by combining all ingredients in a small bowl and stirring until thoroughly blended. Store any excess in an airtight container for later use.
Prepare the cilantro lime sauce by thoroughly combining all ingredients in a medium glass or other non-reactive bowl. Cover and place in the refrigerator until ready to use.
Visit our Family Favorites Menu Plan Page for more delicious and easy recipes your family will love!
Click to this link to learn more about our  "Refer A Friend" program? ?