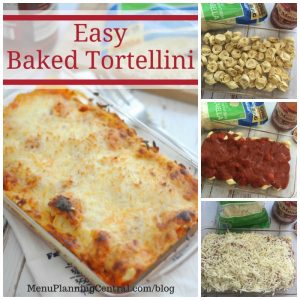 For nights when you want a family-pleasing meal that is also easy enough for the kids to make in about 5 minutes, this is the one!
With just a handful of ingredients, this is easy on the budget AND your schedule.  It's also great because you can revamp this recipe with different types of tortellini, or even use refrigerated ravioli, and can also use a variety of sauce options, including marinara, alfredo, or pesto sauces.  It'll work just about any which way, as long as the pasta has plenty of sauce covering it!
We love this simple recipe so much that we included it in our October Vegetarian Family Favorites Menu Plan.
Ready to try it out?  Let's go!
Easy Baked Tortellini
Serves 4
You will need:
9 ounces refrigerated cheese tortellini
1 jar of pasta sauce of your choice
2 cups mozzarella cheese
salt and pepper to taste
To Make it:
 Preheat the oven to 350 degrees.

Spray a medium sized baking dish with no-stick spray.  Spread a layer of sauce over the bottom of the pan.  Then add the tortellini to the dish.

Cover tortellini with pasta sauce.

Sprinkle the shredded mozzarella evenly over the top.

Bake for 25-30 minutes until heated through and the cheese on top has melted.

Some crusty bread or a side salad are just right with this!  Enjoy.