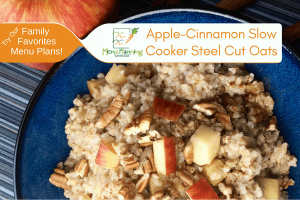 There is nothing better than waking up and having a delicious and healthy breakfast hot and ready! If your house is like mine, mornings are crazy busy so you will love the fact that this make-ahead recipe is prepared the night before.
Your slow cooker will do all the work while you are fast asleep, and you will awake to the sweet aroma of cinnamon and apples that will remind you of a freshly baked apple pie.
Prep time: 15 minutes
Cook time: 6-8 hours
Serves: 4-6
Important Tips:
This recipe has been developed and tested using steel cut oats. Do not substitute any other type of oats for this recipe. Cooking times are based on using steel cut oats only.
It is important to either line or heavily grease the sides of your slow cooker insert before adding your ingredients. Skipping this step will cause the oats to stick to the sides and they will be very difficult to remove.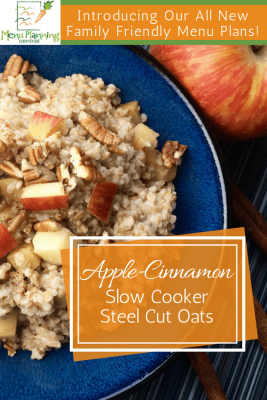 Ingredients:
1 c. steel cut oats
3 c. water
1 c. fresh apple cider
2 medium apples, cored and diced
1½ T. honey, preferably local
1 t. ground cinnamon
½ t. ground nutmeg
½ t. ground allspice
½ t. salt, to taste
To serve:
1 medium apple, cored and diced
½ c. pecans, chopped
Real maple syrup
Directions:
Add oats, water, cider, apples, honey, cinnamon, nutmeg, allspice, and salt to greased or lined slow cooker crock and stir to combine.
Cover and cook on low for 6-8 hours. Actual cooking time will vary depending on your slow cooker, so check for doneness after 5 hours and adjust cooking time accordingly.
To serve, allow to cool slightly before spooning into bowls and topping with fresh chopped apples, pecans, and some real maple syrup, if desired.
If you like delicious and healthy recipes just like this one, check out our all new Family Friendly Menu Plans! 
Save $15 on our convenient annual plan with Coupon Code Save15!
Are you part of our "Refer A Friend" program? If not, click this link for details! ?