Affiliate links are used in this post.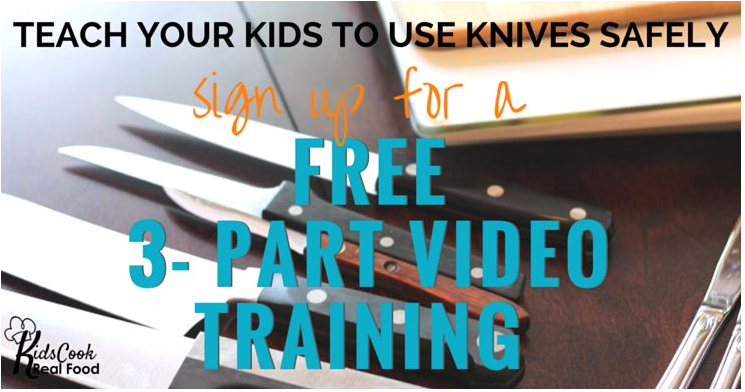 Do your children know the 4 safe ways to use a knife, and the 3 safe ways to hold food that you're cutting?
When my six kids were little, I did a lot of letting then stir and pour ingredients into a bowl, snap the ends off of beans, and they helped garden, but I was not too keen on giving them sharp knives!  I would not have thought they could handle it safely, and would not have known smart ways to teach them.  So, I think this free video course is pretty cool!  You and your kids will learn from a mom of four how to safely hold food and cut it with sharp knives, which should springboard them into more meaningful and competent help in the kitchen.
They are also offering a cool cooking school for kids!  It's called Kids Cook Real Food, and it's a video course that you and your kiddos can go through and start learning the ropes in the kitchen.  My 13 year old son loves cooking shows and has learned so much from them.  I think he will love this class and having something special to work on in the evenings after his school work is done.  I know he feels a lot of pride when he can cook a delicious food for us.  Maybe your kids would like to give this a try to.  Start with the free knife skills class and see what you think.  🙂