Affiliate links are used in this post.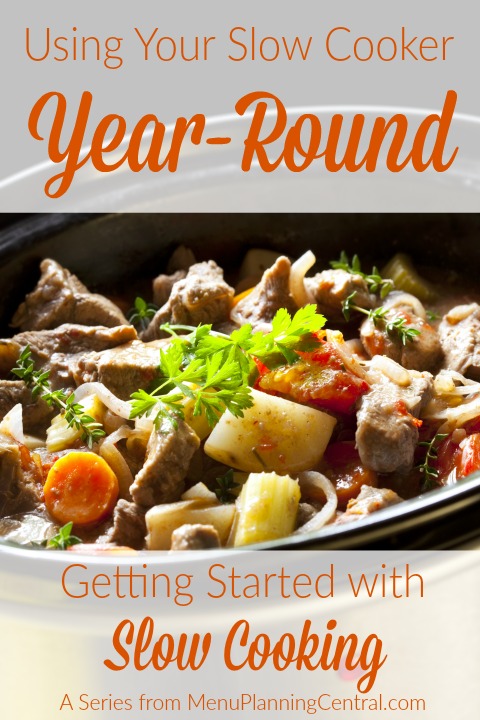 Once you start digging out your slow cooker and using it to cook delicious homemade meals, you will quickly become a fan. Many of us start to think about soups, stews, chilis, and all sorts of other delicious fare that lends itself to slow cooking (pot roast anyone?) when fall and cooler temperature come around.
A lot of people love to use slow cookers during the cooler months of the year, but come spring, they stick their slow cooker back in the cabinet and forget about them for the warmer months. If you ask me, that's a mistake. Slow cookers are wonderful appliances year-round. Yes, they are perfect for those hearty winter dishes that we used to cook at the back of the stove in the darker months. But believe me, that pot of beef stew tastes just as delicious in the spring or summer.
The main reason many of stews and roasts are winter dishes is because they had to cook and bake for a long time. In the hot summer months, we don't want to heat up the house any more than necessary. And running the stove or oven for several hours before dinner will certainly do that.
But guess what doesn't heat up the house? Your slow cooker. It puts up a lot less heat and it's portable. That means that on a really hot day when your air conditioner is barely keeping up, you can go plug in the slow cooker on the porch and have dinner cooking while you hang out in the backyard with the kids.
Your slow cooker also comes in handy anytime you're grilling in the back yard. No more slaving away in the kitchen fixing side dishes while everyone else gets to hang out in the yard and watch your husband grill burgers. Instead, you do a little prep work in the morning, start a side dish in the slow cooker (scalloped potatoes are always a favorite around here) and you can grab a drink and join the fun in the yard.
Of course those same dishes will also come in handy at the annual company barbecue, or the extended family 4th of July cookout. When you're asked to bring a side dish, cook it in the slow cooker and bring everything along. Just plug it in and those baked beans, or the squash casserole you made will still be piping hot when it's time to eat.
You'll find the slow cooker is also handy at potlucks throughout the year and let's not forget about the holidays. There's always a lot of cooking going on and you have to do a whole lot of planning to make sure you have room on the stove and in the oven to get it all cooked in time. How much easier would your holiday cooking be if you could have a couple of things simmering away in your slow cookers? You can start them in the morning and don't need to worry about anything until it is time to eat.
I tell you, there's no reason to pack away that slow cooker. Use it year-round. Take it with you on vacation to cook simple meals your kids will love right in the beach house or motel room. Adjust the flavors and seasonings and the types of dishes you cook depending on the season. Take advantage of this cooking appliance throughout the year.
Right now you can get this awesome plan for summer slow cooker meals that you can make ahead and store in the freezer!  It's incredibly streamlined and organized, to make it super simple for you to make a bunch of meals in under an hour!  Check it out.