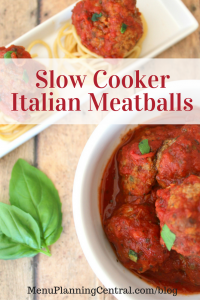 If you want to come home to your house smelling heavenly, with enough food for dinner AND a freezer meal, you'll love this!  With a little bit of prep time, which can even be done the night before, this is an easy recipe that can be used in a variety of ways.  Cook up a pot of spaghetti to enjoy with your meatballs.
Turn 'em into meatball subs.  Enjoy them alone.  Whichever way, you'll love it.  And you can take advantage of whatever ground meat is on sale at the store, because any combination of ground beef, turkey, pork, chicken, sausage, venison, etc. will do.
Slow Cooker Italian Meatballs
Makes about 36 medium size meatballs
Ingredients:
2 lbs. of meat (ground beef, Italian sausage, turkey—any combination will work)
1 1/4 cups Italian seasoned bread crumbs
1/4 cup chopped fresh parsley
2 cloves garlic, minced
1 tsp. dried crushed basil

1 medium yellow onion, chopped
1 egg, beaten
1 Jar of Spaghetti sauce or you can use your favorite homemade spaghetti sauce recipe
Directions:
1.  In a slow cooker, mix the spaghetti sauce, along with about 1 teaspoon crushed basil.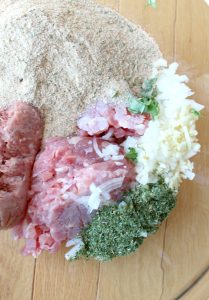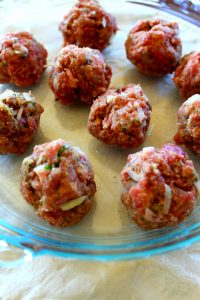 2.  In a bowl, mix the ground meat, bread crumbs, parsley, garlic, onion, and egg. Shape the mixture into 1-2 inch size meatballs.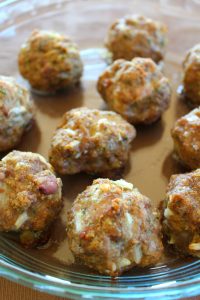 3.  Once you have shaped your meatballs you can put these directly into your sauce in the slow cooker, or you can bake them for 15 minutes at 350 degrees to cook them some and that cuts down on the grease in the sauce.
4.  Cook on Low for 6 to 8 hours.  Enjoy! ☺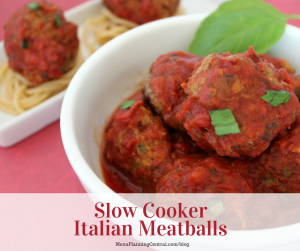 This makes a pretty big batch, so you can easily take about half the batch and pop 'em in the freezer.  Later on when you've got a night where you need a quick and easy dinner, you can just pour some more sauce into the slow cooker and toss in the frozen meatballs and have another easy dinner. (cook for 4-5 hours on low)  Win!  
If you like this recipe – you'll LOVE our Family Favorites Menu Plans!  Click here to learn more.