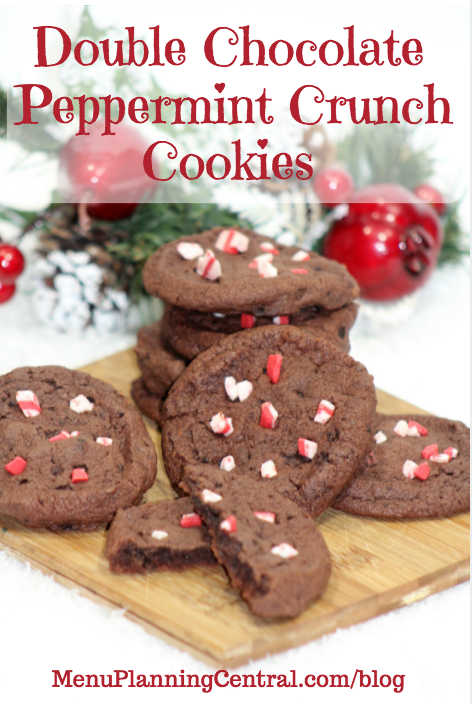 One of the greatest flavor combinations on earth is chocolate and peppermint. Don't you agree? If you so, you'll want to make these yummy cookies–stat!  
Ingredients
2 1/2 cups chocolate chips, divided
1 1/2 cups flour
1/4 cup cocoa powder
1 teaspoon baking powder
1/2 teaspoon salt
1/2 cup unsalted sweet cream butter, softened
1 cup sugar
1 teaspoon vanilla extract
2 large eggs
1/2 cup of Andes peppermint crunch chocolate
Directions
1. Preheat oven to 350. In a glass bowl, microwave 2 cups of chocolate chips on high for 30 seconds, stir, and repeat until chocolate is melted and smooth.
2. In large mixing bowl, using a hand mixer, cream butter, sugar, and vanilla till smooth. Add eggs and beat in until well incorporated.
3. Add about two-thirds of the melted chocolate into the butter mixture and mix well. (save the remaining chocolate for drizzling)
4. Add flour, cocoa, baking powder, and salt to the wet ingredients and mix until well-blended.
5. Stir in remaining half-cup of whole chocolate chips and the Andes chocolate pieces.
6. Prepare baking sheets by spraying with no-stick spray or lining with parchment paper.
7. Scoop out about a tablespoonful of dough and form a round ball. Place onto cookie sheets about 2 inches apart. Repeat until you use up all the cookie dough.
8. Bake at 350 for 8-9 minutes. Cool cookies on baking sheet for about 5 minutes. Drizzle with remaining melted chocolate. Transfer onto cooking racks.