As many of you probably know, I came on board as new owner of Menu Planning Central about 6 months ago. Since I wasn't the original creator of the menu plans, I'm slowly making my way through the various recipes and enjoying using menu planning in my own life.
Today I thought I would share some of what's working for us with menu planning, and what recipes we're really enjoying.  I did a little periscope episode about it, and also shared the details and some (very amateur photos) here!
First, I have all of this month's recipes are printed out and organized in a 3-ring binder.  Each recipe is in a page protector, so the pages are easy to wipe off if any splatters happen while cooking.
I went through the 4 different types of menus that are available (Family Friendly, Frugal, Vegetarian, and Healthy) and picked the weeks that I want to use for this month.  This week we are eating the Family Friendly Week 3 option in February.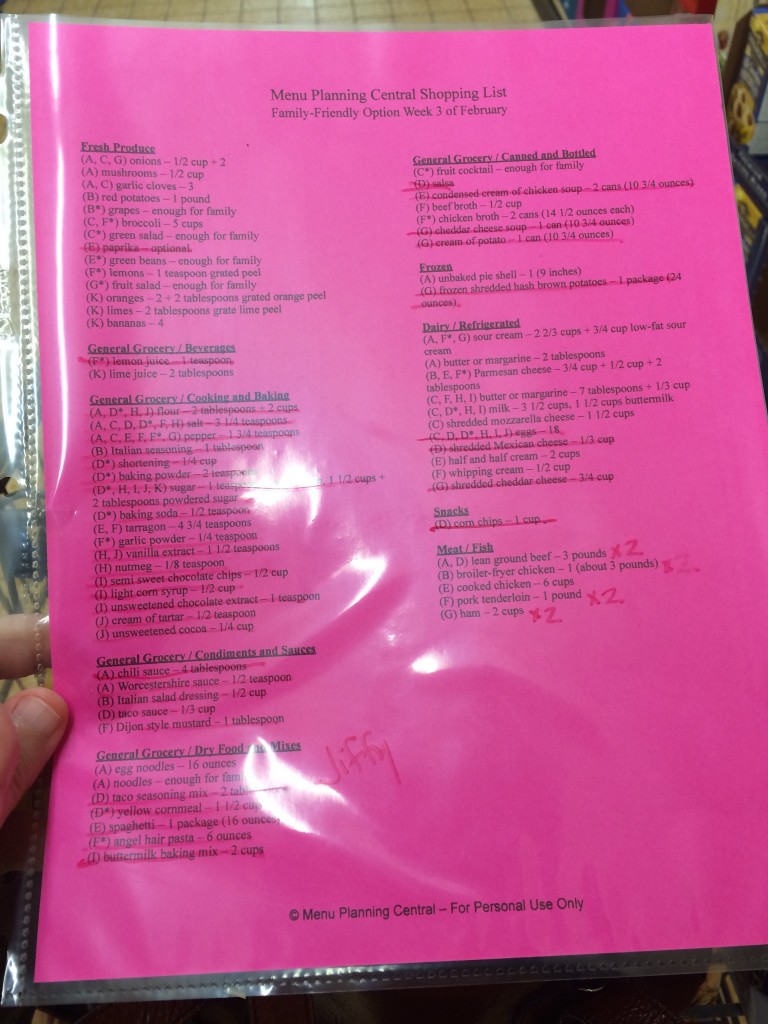 My shopping lists are printed on card stock to make them sturdy enough for me to take through the store and cross things off as I go.  I have it in a page protector and use a dry erase marker.  So easy!  When I get home I can wipe off my lines and it'll be ready to go again next time I want to use it!
Many of the recipes are designed to serve 4, and we usually are serving 6+, so some things I had to double.  There were also tons of staples that I didn't need to buy because we already had them on hand.
All in all I spent about $110 on the ingredients I needed for 7 dinners, 2 brunches, and a dessert recipe for 6-8 people.  At around $11 per meal to serve this many people, it's less than $2 per serving!  Much better than eating out, which happens too often when I don't have anything planned.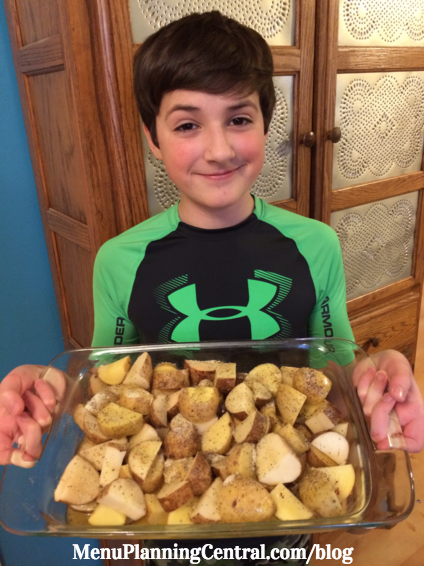 Tonite we had the Chicken and Potato Bake and oven roasted asparagus.  It only took about 30 minutes to assemble and pop in the oven, mainly because we had to scrub 12 potatoes.  My 12 year old son was my helper and he did a great job.  He loves to cook and watches all the cooking shows he can find, so this was a good experience for him.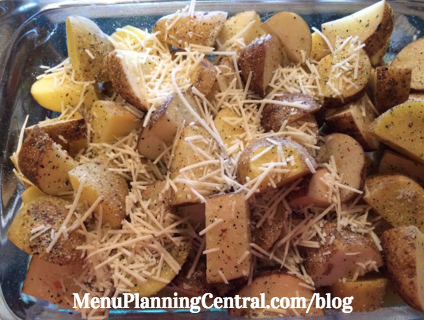 Other than the scrubbing and cutting, the potatoes were a snap to assemble. Since we were doubling the recipe we used separate 9×13 pans, but for people that need 4 servings, it can all fit in one pan.  I modified the recipe slightly by drizzling one stick of melted butter over the potatoes, then sprinkling Italian seasoning, and topping with grated parmesan cheese since it would melt better than grated.  I also used a combination of potatoes since I needed to use up both.  This worked fine with both thin skinned and russet potatoes.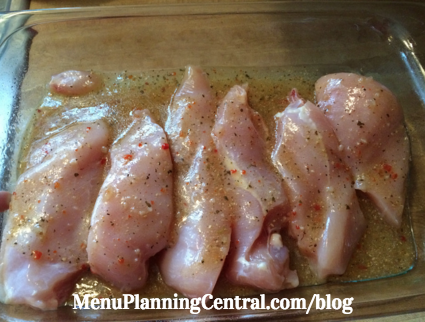 The chicken bake couldn't be easier. You can use a cut up fryer chicken or any boneless chicken of your choice. I used boneless, skinless chicken breasts that I cut in half. It was perfect!  Simple pour Italian salad dressing on top and boom!  All done!
The asparagus was not on the menu plan, but I saw a nice bunch of it at the store and knew I'd find someplace to add it in. This was a perfect meal for it!
All you have to do it wash the asparagus, cut off the tough ends, toss with some olive oil and some sea salt and black pepper. Bake in a 400 degree oven for 20 minutes. Yum!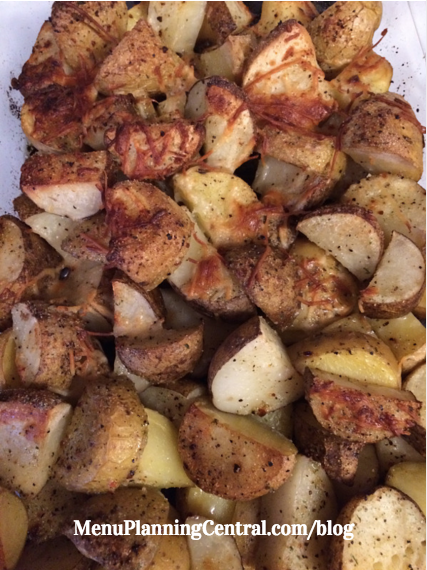 Let me just tell you–these potatoes were The BOMB! The combination of seasonings and melted parm were perfect. Just the right around of crispy, and so delectable!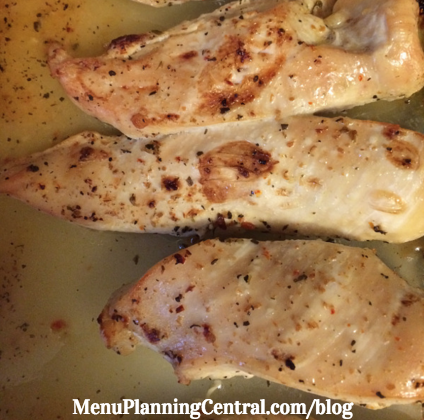 The chicken bake also came out perfectly. It was so juicy and tender and flavorful–it almost felt like cheating to do something so simple and have it all come out so yummy!
My sons ages 12-17 gave this meal their stamp of approval, and so do I.  It is easy enough that anybody could make it, and it was delicious.  Bravo!
Later this week we'll be enjoying Ground Beef Stroganoff, Broccoli Quiche, Mexican Meatloaf, Tarragon Chicken Casserole, and more!  I'll try to report back about some of them.
Want to give menu planning a try?  You can sign up to get 4 weeks of done-for-you menus for FREE!