Affiliate links are used in this post.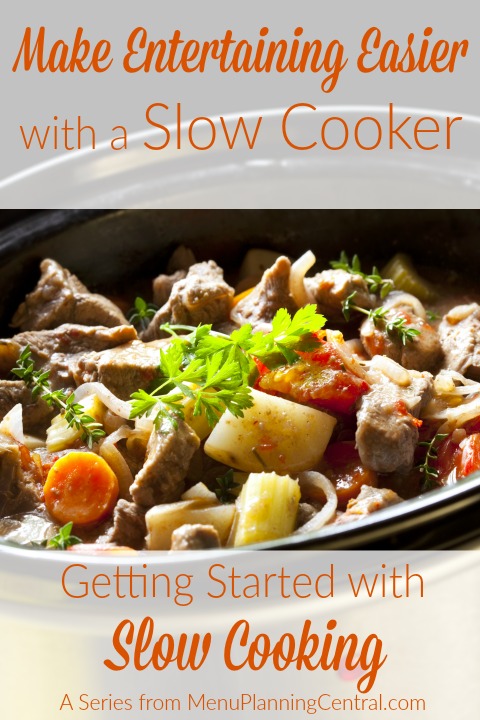 Do you enjoy entertaining? Use your slow cooker to help make a night of hosting friends and family in your home a lot easier. In fact, if you own multiple slow cookers or various kinds of slow cookers, then you may even be able to prepare your entire array of dishes, appetizer to dessert, with slow cookers. You will then be free to take part in the conversations going on around you rather than being set apart in the kitchen slaving over the stove.
Here are a few ideas that I've come up with to help you figure out how make entertaining easier with a slow cooker.
Do you own a Mini Crock Pot? This particular type of slow cooker is perfect for small gatherings where you only need to serve a few people. Prepare a delicious cheese dip, a tasty soup, or an easy appetizer. Serve alongside some crackers or a fresh loaf of sourdough bread and voila you've got an easy meal with little fuss.
While the Triple Crock Pot can be used in much the same way as the mini crock pot, it is also a bit more diverse since you have the ability to prepare different dishes in one slow cooker. Investing in more than one triple crock pot gives you the option to serve various kinds of side dishes, a few favorite desserts, several appetizers, or plan a 'tasting' party offering several different mini entrees to whet your guests' appetite. In my mind, the triple crock pot is the perfect slow cooker option for those exciting football games enjoyed with your family each fall.
My next recommendation is not actually a slow cooker. However, the Turkey Roaster Oven is the perfect addition to a night of entertaining with slow cookers because it works in much the same way, allowing you to throw in your ingredients and then pursue other interests for a few hours while your meal cooks. According to the Amazon description, this roaster "Bakes anything your regular oven would, from muffins to yeast rolls to an entire sheet cake." So, while you may wish to serve a turkey to your guests on certain occasions, this roaster is useful to you all year long. Prepare a large batch of rolls, lasagna, your favorite vegetable, and more.  I love it that this one piece of kitchen equipment can take the place of an extra oven!
The most exciting thing to me when it comes to entertaining with slow cookers is that, when armed with one (or more) of each of these recommended slow cookers, I am equipped to serve many dishes to many people with ease. Minimal attention is needed while everything cooks, and little cleanup is required when you're gathering ends.
Do you want to make slow cooking cleanup even easier? Pop in a slow cooker liner before you add your ingredients and you've just eliminated cleanup!
To find the perfect slow cooker fit for you, take a look at the selection of slow cookers linked below.
Here are some resources to get you started with planning how to put your slow cooker to use when entertaining:
Do you have a favorite slow cooker or method for entertaining with slow cookers? Share your ideas with me!
[related_posts_by_tax]