With Valentine's Day fast approaching, you may be thinking about whether to go out to dinner and chance a gluten cross contamination or having a romantic Gluten Free Valentine's  Dinner at home.
I have a few delicious gluten free Valentine's day Recipes to share with you today.  They won't keep you in the kitchen all evening and it will taste like you cooked all day.  The cake can be made ahead of time to save work on Valentines Day.  I hope you enjoy it.
We are going to start with a tossed salad with Italian dressing (Kraft Italian is gluten free) next is a nice poached salmon on a bed of linguine and topped with a smokey cream sauce.  And what would Valentines Day be without chocolate.  I have a delicious flourless chocolate cake for dessert.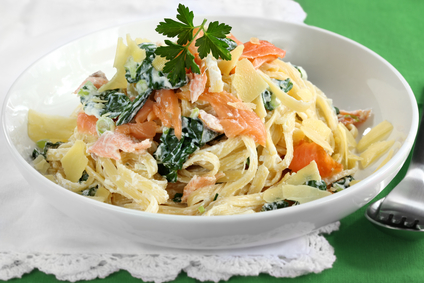 Salmon and Linguine with Cream Sauce

1 pound Fresh or Frozen Skinless Salmon Fillet
1 Cup Water
1 Cup White Wine (something you would drink)
Gluten Free Cooking Spray
1/3 cup Onion, diced finely
1 1/2 Cups Milk
1 1/2 teaspoons cornstarch
6 ounces Philadelphia Cream Cheese, cubed and softened
2 ounces (1/2 Cup) Smoked Gouda Cheese, finely shredded
1 Tablespoon Fresh Chives, snipped
1/4 teaspoon ground black pepper
1   9 ounce package uncooked Gluten Free Linguine
If salmon is frozen, thaw it out.  Rinse salmon and pat dry.  Cut it into 4 equal size pieces.  Measure the thickness of the Salmon, this will determine how long you cook each piece.   In a 12 inch skillet, bring water and white wine to a boil.  Add salmon to the skillet, and return to a boil then reduce heat.  Cover and simmer about 5 minutes per 1/2 inch thickness of salmon, and salmon flakes easily with a fork.
Coat a medium saucepan with the cooking spray.  Place onion in saucepan, and cook until tender.  Place milk and cornstarch in a gravy shaker or jar with a tight fitting lid and shake until lump free.  Pour into saucepan with the onion.  Whisk and cook until slightly thickened.  Cook 2 minutes more then add the Philadelphia cream cheese and Gouda cheese.  Continue simmering and stirring until the cheeses are melted.  Stir in the snipped chives and ground black pepper.
While the cheese sauce is simmering, cook pasta according to package directions.  Drain and place pasta equally on plates, place salmon on top of pasta and spoon cheese sauce over salmon.  Garnish with more snipped chives if desired.
The following recipe comes from Whole Foods.  It is very decadent and rich.  A little piece goes a long way.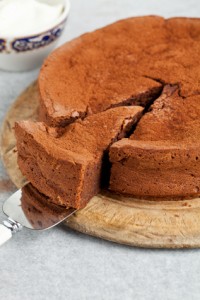 Flourless Chocolate Cake with Dark Glaze
12 ounces bittersweet chocolate chips
1 cup (2 sticks) plus 3 Tablespoons butter, cut into chunks
1 1/4 Cup Sugar
6 Eggs
1 Cup unsweetened Cocoa  Powder
1 Tablespoon Milk
1 Tablespoon Honey
1/4 teaspoon gluten free vanilla extract
Preheat oven to 375 degrees.  Spray a 9-inch springform pan with gluten free nonstick cooking spray, then line the bottom with a circle of parchment paper.  Spray the paper with cooking spray also, then set the pan aside.
Place 2/3 ( 8 ounces) of the chocolate and 1 cup (2 sticks) of the butter in a medium saucepan over medium low heat.  Stirring often, melt chocolate with the butter until completely blended.  Remove from heat and transfer to a large bowl.  (You could also use the microwave to melt the butter and the chocolate, if desired.)  Add sugar and mix well.  Add the eggs one at a time, whisking well after each addition.  Sift cocoa into bowl and stir until just blended.
Pour batter into prepared pan and bake for 35 to 40 minutes, or until cake has risen and the top has formed a thin crust.  The cake should be just firm in the center when done.  Cool for 10 minutes, then invert onto a plate, removing the sides of the springform pan.  Remove and discard the parchment paper and set cake aside to cool completely.
Meanwhile, make the chocolate glaze.  Melt remaining 4 ounces of chocolate and the 3 tablespoons of butter in a small saucepan over medium low heat, stirring until smooth.  Remove from heat, then stir in milk, honey and vanilla.  Set aside to cool slightly.
When cake has cooled, pour glaze onto the center.  Using a spatula or the back of a spoon, very gently smooth glaze along the top and sides of the cake.  Chill cake, uncovered for 30 to 60 minutes before serving to set the glaze and make the cake easier to slice.
Mary Blackburn
Blog:  http://www.easyglutenfreeliving.com
Twitter:  @MaryB2010
Facebook: http://www.facebook.com/maryblackburn2010