Menu Planning Central uses affiliate links.
Sick of spending a fortune at the grocery store?  Trying to find some more wiggle room in your budget before Christmas gets here?  Want to learn how to save more and spend less while living better?  Well, today is your lucky day! The Ultimate Homemaking Bundle is happening TODAY and TOMORROW ONLY, and you are going to LOVE this deal!  
There is a ton of great information included in this bundle, but one thing I'm really, really excited about for you is that Grocery University is included!
Grocery University is the course I took several years ago when I decided I wanted to start winning at the grocery store.  The information is so clearly presented and engaging, and I was immediately saving hundreds of dollars a month by using what I learned!  So, I KNOW this one resource alone is going to help you bigtime, and there are even more great ebooks that will help you save in other ways.  Perfect timing for all of us that want to spend less at the grocery store during the biggest eating time of year!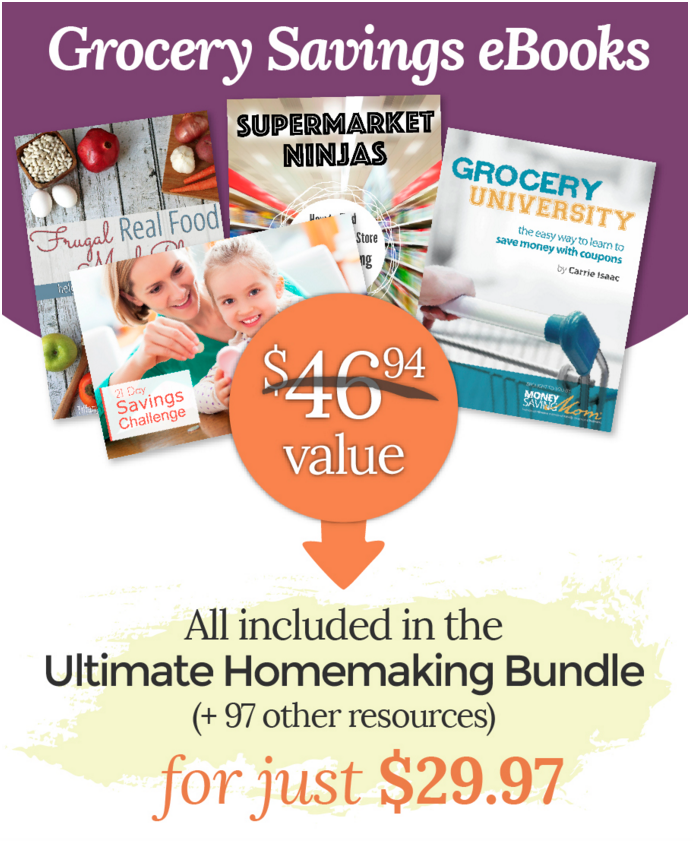 In addition to Grocery University, you'll get a great collection of new cookbooks, meal plans, inspiration for your health, and a whole lot more.
You can see everything that you'll get HERE.  I already got my bundle and it is a great value! I think you will love it and I know this collection is well worth the purchase price!
The sale is only for today and tomorrow, and they have a great money-back guarantee, so you don't have anything to lose.  Don't miss this!