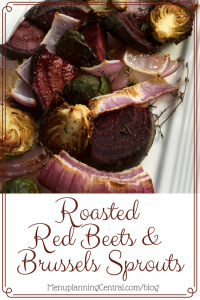 Are you looking for a side dish that has the WOW factor?  You'll love this!  It's easy to make, has delicious flavor, and looks so gorgeous with all those jewel tones.  This recipe is included in our November Family Favorite's Menu Plan.  Click here to get your copy!
Ingredients:
3 large red beets, cleaned, peeled, and cut into uniformly thick slices

1 pound fresh Brussels sprouts, ends removed and cut in half

3 T. olive oil, divided

1 T. garlic powder, divided

1 red onion, outer skin removed and cut into uniformly thick slices and then quartered

6 sprigs fresh thyme

1 T. pink Himalayan sea salt

1 t. fresh cracked black pepper

Directions:
Preheat oven to 400 degrees.
Add sliced red beets and Brussels sprouts to a large bowl and toss with 2 tablespoons olive oil and 2 teaspoons garlic powder.
Arrange beets and Brussels sprouts on a rimmed baking sheet lined with parchment paper in a single layer. Add red onion quarters and brush with remaining olive oil and sprinkle with 1 teaspoon garlic powder.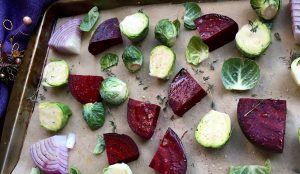 Add fresh thyme sprigs to baking sheet. Sprinkle vegetables with pink Himalayan sea salt, and fresh-cracked black pepper. Bake in pre-heated oven for 25 minutes or until Brussels sprouts are golden brown and other vegetables are tender.
Remove from oven and cool slightly before serving.  Yum!