Your request for the "Menu Planning Basics" Report has been received and the download information has been sent to the email address you provided.
Can We Lend You A Hand Feeding Your Family?
While you truly desire to cook nutritious & delicious meals for your family; you might just not have the time between work inside or outside of the home, shuttling kids, homework, evening committee meetings etc. We get that!
If you had a choice between grabbing processed fast food yet again or serving your family a balanced, home-cooked meal, which would you pick? Most of us, deep down, would prefer to have the ability to prepare a home-cooked meal. But there are many obstacles – we know!
What if I told you that you can prepare that home-cooked meal and save time and money over the so called "Fast Food" option? Menu Planning allows you to do just that. It ensures that you have the ingredients you need in the house to whip up a delicious and nutritious meal in less time than it takes you to decide which drive-thru or takeout restaurant to visit and then wait in line for your food.
But who has time to sit down to find recipes, make a menu plan and the grocery list to go along with it? Let us do it for you!
Feeding Your Family Has Never Been This Easy!

Hi, my name is Christine Steendahl, and I am known as "The Menu Mom". I, together with my team, sit down and come up with not one, but 4 different types of menus each month. Each of these weekly menus comes complete with recipes and categorized grocery lists that make grocery shopping fast and simple.
---
Family Friendly Menu
Every month we provide 4 weekly menus that everyone in the family is sure to love. Not only do you receive 7 dinner recipes complete with side dishes, but also 2 weekend brunch recipes and 2 dessert recipes. Each menu comes complete with the recipes for each dish and a weekly grocery list.
Healthy Menu
Whether you're watching your weight, are dealing with a health issue that requires you to eat healthy, or just want to feel better, this healthy menu is just what you've been looking for. In our program each month you get 4 weeks worth of healthy dinner ideas along with healthy sides. Of course recipes and weekly grocery lists are included.
Vegetarian Menu
Does your family stick to a vegetarian diet? Then this menu is for you! With 4 weeks worth of vegetarian recipes each and of course a categorized grocery list for each week your veggie family will have very happy tummies!
Frugal Menu
Are you on a tight budget? Our frugal menus help you feed your family for less, as you keep your grocery bill in check. Each month we include 4 weeks worth of frugal menus along with the corresponding grocery lists.
Inside Menu Planning Central you will find 4 weekly menus of each of these four options. That's a total of 16 weekly menus complete with recipes and shopping lists to choose from.
But that's not all…
Make Your Own Custom Menus With The Click Of A Button
Allergic to Peanuts or Dairy?
Don't like Spinach or Mushrooms?
Eating Gluten Free or Vegan?
Can't get your child to touch Asparagus?
Need Slow Cooker Recipes 3 times a week?
No Problem!
Because your family is unique, we have created a custom made tool that is super easy to use! Our "My Menu Maker" online software helps you create custom menus perfect for your family – using the recipes in our recipe database (over 1700 and growing) and/or by entering your family's favorite dishes. You can even include breakfast and lunch recipes in your custom menu if you would like.
Just imagine having a menu that you know everyone in your family will love! No more complaining or whining when it's time to sit down for dinner. Instead you get to enjoy your family's happy faces as they devour what you have prepared.
"My Menu Maker" gives you the freedom to create menus (and grocery lists) that are specifically catered to your families needs including allergies, picky eaters and any cultural restrictions you may have with the click of a button.
Take a Sneak Peak into our Members Area
Of Course I Also Have some Great Bonuses for You if You Order Today
Bonus #1-Kid Approved Meals ($14.95 value)
Are you running out of ideas on what to fix for breakfast and lunch for the kids? Kid Approved Meals gives you 13 weeks worth of delicious and fast recipes for lunch and breakfast dishes your kids are sure to love. Of course I'm also including grocery lists.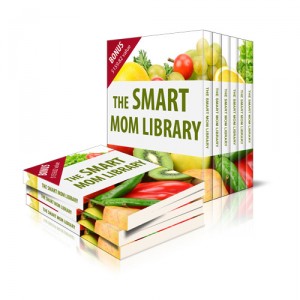 Bonus #2-The Smart Mom Library ($159.82 value)
With your purchase, you receive NINE ebooks (downloadable instantly) that help you be healthier, save time, and save money.
The Health Kit includes 3 full ebooks on living a healthier life, fitting exercise into a busy schedule and increasing your metabolism.
The Saving Time Kit includes 3 full ebooks on time management, getting organized and goal setting.
The Saving Money Kit includes 3 full ebooks on creating a family budget, money saving tips and finding emergency money.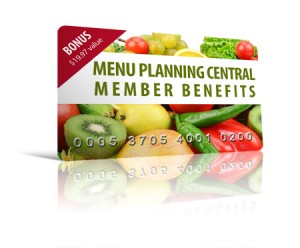 Bonus #3-30 Day Membership in the "Menu Planning Central" Members Only Area ($19.97 value)
As one of our exclusive Menu Planning Central Members, not only will you receive access to new versions of the 4 different menus each month (a total of 16 new menus per month to pick and choose from), and ongoing access to the "My Menu Maker" software, you will also receive additional special monthly reports ("Culinary Exploration" and "Monthly Resource" e-books), personal access to "The Menu Mom" to ask any questions you may have about menu planning and cooking for your family, access to the members-only forum and many more surprise bonuses. You will continue to stay a member and receive 16 new weekly menus and access to "My Menu Maker" each month for only $19.97 per month after your initial 30 days. Cancel any time! Menu Planning Central is the perfect all-inclusive Menu Planning Service for busy families – Feeding your family has never been this easy!
Yes, Christine! I want to order the Menu Planning Central Menu Pack and receive…
4 Family Friendly Menus
4 Healthy Menus
4 Vegetarian Menus
4 Frugal Menus
Make Custom Menus with our "My Menu Maker" Online Software.
13 weeks of Kid Approved Meals
Exclusive Library on Health, Saving Time and Saving Money
Membership To the Menu Planning Central Members Only Area

Start Meal Planning Now
for only $19.97
$9.97
($214.71 value)


You will continue to remain a member and receive 16 new weekly menus and access to "My Menu Maker" each month for only $19.97  $9.97 per month after your initial 30 days. Cancel any time! Members with 12 consecutive monthly payments will automatically be upgraded to Lifetime Members and will no longer be charged.  Menu Planning Central is the perfect all-inclusive Menu Planning Service for busy families – Feeding your family has never been this easy!