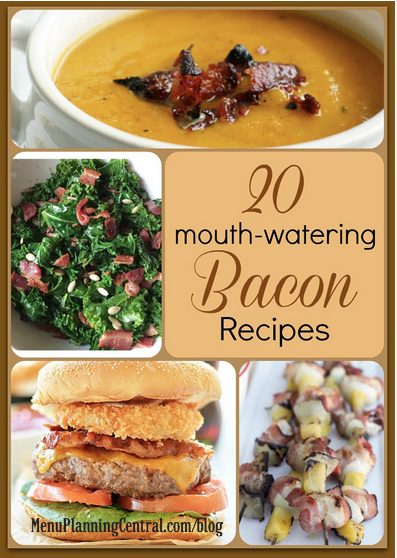 Got bacon lovers at your house?  Then you'll love this round-up!  Twenty mouth-watering recipes, all featuring bacon!  We've got main dishes, breads, side dishes, and even desserts.  Enjoy. 🙂
1. Bacon Wrapped Chicken Kabobs:  Only 5 ingredients!
2. Bacon Ranch Pasta Salad:  Perfect for a potluck!
3. Caramelized Onion Bacon and Tomato Wild Rice Salad:  Gluten-free and flavorful.
4. Bacon Maple Chocolate Chip Cookies:  Ready to try bacon cookies?  Wow!
5. Bourbon Bacon Banana Bread Pudding:  For Mardi Gras or anytime.
6. Cheddar Bacon Ranch Pinwheels:  So cute, and perfect for a party.
7. Tomato and Bacon Breakfast Sandwiches: Get your day started the yummy way!
8. Easy Cheesball Recipe:  Perfect for a party, potluck, or snack!
9. Skillet Roasted Bacon Brussels Sprouts With Garlic Parmesan Cream Sauce:  A delicious and beautiful side dish!
10. Bacon Cheddar Beer Bread:  Perfect with a bowl of soup.
11. Bacon Cheddar Jalapeno Cornbread:  Hearty and beautiful!
12. Bacon Filled French Toast Sticks:  Hearty fall breakfast idea!
13. Cowboy Bacon Cheeseburger:  Super burger!
14. Butternut Squash and Apple Soup with Bacon:  Perfect cold-weather soup!
15. 50/50 Burger:  The menfolk will love this.
16. Savory Bacon-Cheddar Pancakes with Corn and Jalapeno:  Colorful and flavorful!
17. Grilled Avocado Bacon Turkey Sandwich:  Pair with a warm, soothing soup or enjoy alone.  Yum!
18. Bacon Cheeseburger Meatloaf:  New spin on a classic!
19. Kale + Bacon + Pumpkin Seeds:  Does the healthiness of the kale offset the sins of bacon?  lol
20. Bacon Onion Cookies:  Low Carb & Gluten Free, for the hardcore bacon lover!