Your family is going to absolutely LOVE these super easy slow cooker pulled pork BBQ sliders!
Put your slow cooker to work making this delicious and easy dinner!  Just toss the ingredients into your slow cooker in the morning, and you'll have dinner on the table in a jiffy when you get home.  Whether you like a lot of BBQ sauce or a lighter infusion of flavor, this recipe is delicious either way!
Ingredients:
2 pound pork shoulder roast


1 T. kosher salt

1 ½ t. black salt

¼ c. apple cider vinegar

¾ c. prepared BBQ sauce+additional sauce for serving

2 whole cloves garlic, smashed, peels removed, roughly chopped

1 small yellow onion, chopped


2 T. shallot, minced

Slider buns, opened with inside buttered and grilled (or toasted in the oven)

Red cabbage, thinly sliced (optional)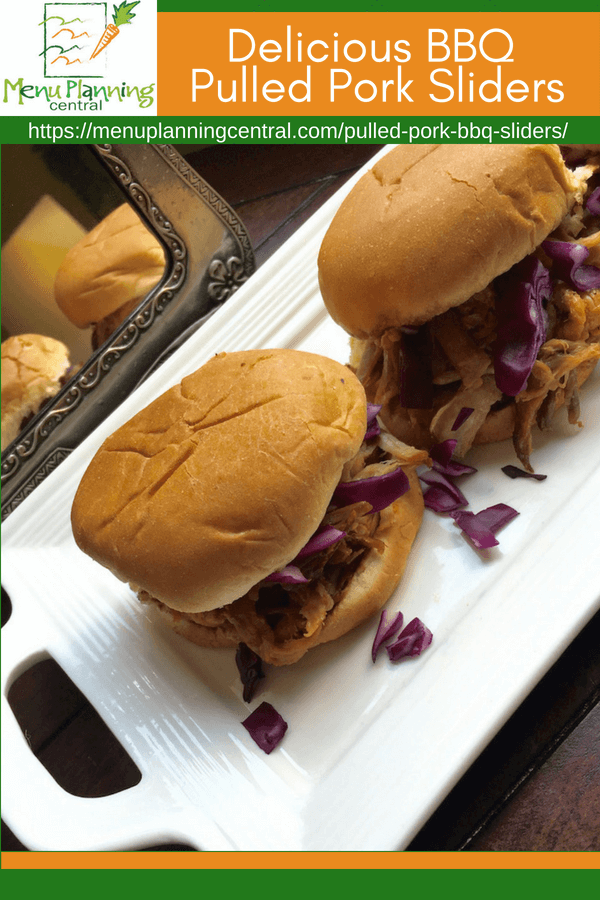 Directions:
Add the pork shoulder to slow cooker and season with salt and pepper.

  Mix together

 cider vinegar, BBQ sauce, garlic, onion, and shallot, then pour over the roast. Cover and cook for 8 hours on low.

The roast should be very tender after 8 hours. Carefully remove from slow cooker and place on a serving platter or cutting board reserved for meat. Remove large deposits of fat. Using a fork in each hand, start "pulling" in two directions, working on one small section of pork at a time. The goal is to "shred" the meat into small strands.

Place shredded meat into a serving container or add it directly to the prepared slider buns. Top with red cabbage for some crunch and color – or add any of your favorite toppings. Add additional BBQ sauce if desired.  Serve immediately and Enjoy! 
If you enjoyed this super easy slow cooker BBQ Pulled Pork Slider recipe, you're going to love our Family Friendly Menu Plans! Get a full year of our best family friendly weekly menu plans for around $4/month!
Are you a member of our "Refer A Friend" program? If not, click this link for details! ?