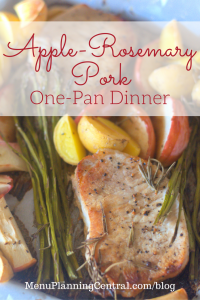 If you're looking for a beautiful dinner full of color and flavor, that's also super easy to make, you'll love this!  Perfect for a quiet evening at home, and easy to double or triple if company's coming.
Apple-Rosemary Pork One-Pan Dinner
Serves 4
Ingredients:
4 boneless pork chops
8 gold small potatoes; halved
1/2 bundle of asparagus; ends chopped off
2 apples, sliced
2 sprigs of rosemary
4 tablespoons Worcestershire sauce
1 teaspoon salt
1 teaspoon pepper
1 tablespoon olive oil
1.  Preheat oven to 375 degrees F.
2.  On a greased, rimmed cookie sheet, arrange pork chops. Brush with Worcestershire sauce.
3.  Around the pork, place apple slices, potatoes, and asparagus.  Drizzle with olive oil, and then sprinkle with salt and pepper. Top with fresh rosemary off the sprig.
4.  Bake at 375 for about an hour, or until potatoes are tender and pork is cooked. Enjoy!
This recipe is included in our October Family Favorites Menu Plan!  Click here to learn more.