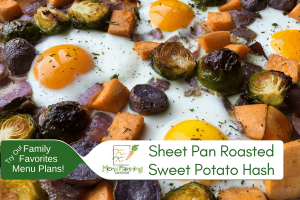 This delicious Sheet Pan Roasted Sweet Potato Hash makes it so easy to eat your veggies! It is bright, colorful, and healthy thanks to the bright orange sweet potatoes, dark purple potatoes, sweet red onions, gorgeous green Brussels sprouts and sunny yellow eggs.
Talk about a rainbow of colors! Once you take one bite, we think you'll agree it tastes as good as it looks.
Roasting the lightly seasoned vegetables brings out all of the deep caramelized flavors and infuses every bite with such rich, savory goodness that you will want to serve this dish for breakfast, lunch, and dinner.
You will achieve the best caramelization and flavor by using a larger three-quarter size sheet pan. (aff. link) This will ensure that the vegetables will roast and not steam which can happen if they are overcrowded.
Tip: Carefully break each egg into a small bowl then pour into the wells you have made in the vegetables on the sheet pan.  Repeat, one egg at a time, until all 6 eggs have been transferred to the sheet pan.
Prep time: 10 minutes
Cook time: 22-28 minutes
Serves: 6
Ingredients:
2 large sweet potatoes, peeled and cut into chunks
1 lb. small purple potatoes, cut in half
8 oz. Brussels sprouts, cut in half
1 large red onion, roughly chopped
3-4 cloves fresh garlic, minced
1 t. onion powder
3 T. extra virgin olive oil
Sea salt and black pepper, to taste
6 large eggs
Optional garnish:
Dried herbs of choice
Directions:
Preheat oven to 425°F and line a large, rimmed baking sheet with parchment paper or a Silpat® baking mat. If using parchment paper, lightly spray with non-stick cooking spray. Set aside.
In a large mixing bowl, toss sweet potatoes, purple potatoes, Brussels sprouts, red onion, garlic, onion powder, and olive oil until vegetables are well coated. Season with salt and black pepper, to taste.
Spread the sweet potato mixture onto the prepared sheet pan in a single layer without overcrowding and roast in pre-heated oven for 8-10 minutes. Stir vegetables and continue roasting another 8-10 minutes, or until sweet potatoes are fork tender.
Remove sheet pan from oven and create 6 round, evenly spaced wells among the vegetables. Carefully pour an egg into each opening, keeping the yolk intact. Season with additional salt and pepper, if desired, and return pan to the oven.
Bake for 6-8 minutes, or until the egg whites are set and the yolks reach the desired level of doneness. Remove sheet pan from oven and garnish with crushed kale chips or dried herbs of choice, if desired, and serve immediately with the roasted vegetables.
Save $15 on our convenient annual plan with Coupon Code Save15!
Are you part of our "Refer A Friend" program? If not, click this link for details!